The Festival du Vent in Calvi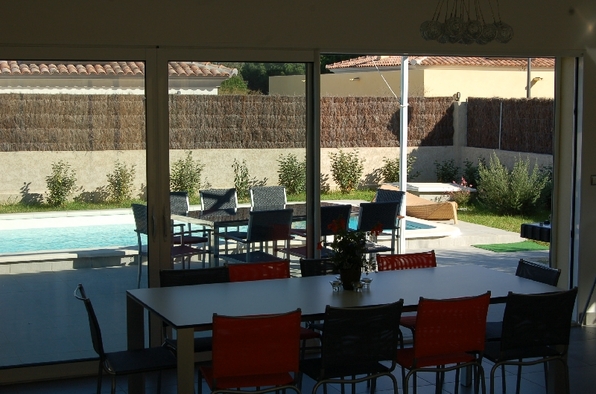 Location
The
private estate Villas Mandarine
, is an ideal place for guests wishing to combine tranquillity and comfort with the convenience of Calvi's amenities just a short walk away..
This is a beautiful hamlet composed of a total of five detached properties each occupying a spacious spot (between 800 and 1,000 square metres of grounds) with private pool and flower filled garden..
These villas, which are nestled between the mountain and the sea, are comfy modern properties with private pool. They represent perfect places to meet in family or between friends. Top of the notch personalized services provided.
At your diposal
1. 185 square metre four bedroom villas which can cater for up to 12 (on special request).
In order to respect your privacy, the two upstairs bedrooms have their own private terraces.
2. 135 square metre single storey property with three bedrooms which can cater for up to 10 (on special request). One of them is specifically adapted for guests with disabilities. Please consult us to know about its availability.
The villa is appointed with modern facilities such as reversible air-conditioning, central vacuum system, flat screen LCD TV and wireless high-speed internet access ... without forgetting basic amenities including barbecue, sunbaths and garden furniture which adorn the terraces.
Another little perk are the additional services that can be provided on request, including: cooking, baby sitting, extra housecleaning...
Good to know

bed sheets, pillow cases and beds made up and ready on arrival,
• bathroom linen per bathroom: 2 towels, 2 bath sheets, 2 square bath mats and 1 bath mat,
• bath linen change every three days
• a welcome pack containing a selection of toiletries,
• a housekeeping kit and two tea towels,
• personalized cleaning service - 1 hour daily - final cleaning,
• free internet access,
• linen changed on Fridays for stays of two weeks or more


What's included in the price

• Drap de plage 7 €
• Additional personalized (cooking/babysitting/cleaning) services available on request.
• Beach sheet 7 €
• Bathrobe 7 €
• Additional tea towels (pack of two) 2 €
• Additional bathroom linen 10 €
• Additional single and double bed linen 15 € - per change

Additional services

•Cleaning (2 h minimum) : €20 per hour
• Cooking service: one chef and one waiter (3 h) : €150
• Any additional hour per person: €30
• Baby-sitting with certified staff: €25 per hour
• Breakfast : €10 per person
• Bottle of wine and other local specialities: €55
• Bottle of Champagne, local specialities and brunch of flowers: €110
• Shopping service on arrival and during your stay (tell us about your shopping list)

Villas are available by 5.00 pm on day of arrival and should be vacated by 10.00 am on day of departure.

Compulsory additional fees, payment on site

A refundable €800 cash deposit is required on arrival.
The rentals of additional beds and sheets cost €35 per person per week.l[
Photo des villas Mandarine
2011 RATES AND BOOKING VILLAS MANDARINE